Thoughts on Aging...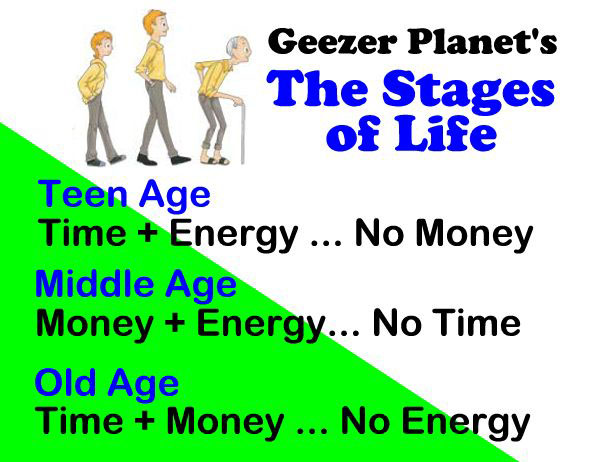 As I've aged,
I've become kinder to myself, and less critical of myself. I've become my own friend. I have seen too many dear friends leave this world, too soon; before they understood the great freedom that comes with aging. Whose business is it, if I choose to read, or play, on the computer until 4 AM, or sleep until noon? I will dance with myself to those wonderful tunes of the 50's, 60's &70's, and if I, at the same time, wish to weep over a lost love, I will.
I will walk the beach, in a swim suit that is stretched over a bulging body, and will dive into the waves, with abandon, if I choose to, despite the pitying glances from the jet set. They, too, will get old. I know I am sometimes forgetful. But there again, some of life is just as well forgotten. And, I eventually remember the important things. Sure, over the years, my heart has been broken. How can your heart not break, when you lose a loved one, or when a child suffers, or even when somebody's beloved pet gets hit by a car? But, broken hearts are what give us strength, and understanding, and compassion. A heart never broken, is pristine, and sterile, and will never know the joy of being imperfect.
I am so blessed to have lived long enough to have my hair turning gray, and to have my youthful laughs be forever etched into deep grooves on my face. So many have never laughed, and so many have died before their hair could turn silver. As you get older, it is easier to be positive. You care less about what other people think. I don't question myself anymore. I've even earned the right to be wrong.
So, to answer your question, I like being old. It has set me free. I like the person I have become. I am not going to live forever, but while I am still here, I will not waste time lamenting what could have been, or worrying about what will be. And I shall eat dessert every single day (if I feel like it).
MAY YOUR FRIENDSHIPS NEVER COME APART, ESPECIALLY WHEN IT'S STRAIGHT FROM THE HEART!
SENIOR MOMENT
Several days ago as I left a meeting at our church, I desperately gave myself a personal

TSA

pat down. I was looking for my keys. They were not in my pockets. A quick search in the meeting room revealed nothing. Suddenly I realized, I must have left them in the car. Frantically I headed for the parking lot. My wife, Diane, has scolded me many times for leaving the keys in the ignition. My theory is the ignition is the best place not to lose them. Her theory is that the car will be stolen. As I burst through the doors of the church, I came to a terrifying conclusion. Her theory was right. The parking lot was empty. I immediately call the police. I gave them my location, confessed that I had left my keys in the car, and that it had been stolen.
Then I made the most difficult call of all, "Honey," I stammered. I always call her "honey" in times like these. "I left my keys in the car, and it has been stolen."
There was a period of silence. I thought the call had been dropped, but then I heard Diane's voice, "Ken," she barked, "I dropped you off!" Now it was my time to be silent. Embarrassed, I said, "Well, come and get me."
Diane retorted, "I will, as soon as I convince this policeman I have not stolen your car!"
Contributed by Barbara Arthur Pretzsch RHS '58
Here is a Spoof on Memory as We Age - Have Fun With It!
EVER HAPPEN TO YOU???
While on a road trip, an elderly couple stopped at a roadside restaurant for lunch. After finishing their meal, they left the restaurant, and resumed their trip.

When leaving, the elderly woman unknowingly left her glasses on the table, and she didn't miss them until they had been driving for about forty minutes. By then, to add to the aggravation, they had to travel quite a distance before they could find a place to turn around, in order to return to the restaurant to retrieve her glasses.
All the way back, the elderly husband became the classic grouchy old man. He fussed and complained, and scolded his wife relentlessly during the entire return drive. The more he
chided her, the more agitated he became. He just wouldn't let up for a single minute. To her relief, they finally arrived at the restaurant. As the woman got out of the car, and hurried inside to retrieve her glasses, the old geezer yelled to her,

While you're in there, you might as well get my hat and the credit card.
Contributed by Barbara Arthur Pretzsch RHS '58
More Thoughts on Aging
~ Maybe it's true that life begins at fifty. But everything else starts to wear out, fall out, or spread out.

~ There are three signs of old age. The first is your loss of memory. I forget the other two.

~ You're getting old when you don't care where your spouse goes, just as long as you don't have to go along.

~ Middle age is when work is a lot less fun--and fun is a lot more work.

~ Statistics show that at the age of seventy, there are five women to every man. Isn't that a bad time for a guy to get those odds?

~ You know you're getting on in years when the girls at the office start confiding in you.

~ Middle age is when it takes longer to rest than to get tired.

~ By the time a man is wise enough to watch his step, he's too old to go anywhere.

~ Middle age is when you have stopped growing at both ends, and have begun to grow in the middle.

~ A man has reached middle age when he is cautioned to slow down by his doctor instead of by the police.

~ You know you're into middle age when you realize that caution is the only thing you care to exercise.

~ The aging process could be slowed down if it had to work its way through Congress.

~ You're getting old when you're sitting in a rocker and you can't get it started.

~ You're getting old when you wake up with that morning-after feeling, and you didn't do anything the night before.

~ The cardiologist's diet: if it tastes good, spit it out.

~ Doctor to patient: I have good news and bad news: the good news is that you are not a hypochondriac.

~ It's hard to be nostalgic when you can't remember anything.

~ You know you're getting old when you stop buying green bananas.

~ Last Will and Testament: Being of sound mind, I spent all my money.

~ When you lean over to pick something up off the floor, you ask yourself if there is anything else you need to do while you are down there.

~ You find yourself in the middle of the stairway, and you can't remember if you were downstairs going up or upstairs going down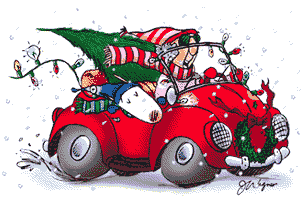 IF MY BODY WERE A CAR...

If my body were a car, this is the time I would be thinking about trading it in for a newer model. I've got bumps and dents and scratches in my finish and my paint job is getting a little dull ... But that's not the worst of it.

My headlights are out of focus and it's especially hard to see things up close

My traction is not as graceful as it once was. I slip and slide and skid and bump into things even in the best of weather.

My whitewalls are stained with varicose veins.

It takes me hours to reach my maximum speed. My fuel rate burns inefficiently.

But here's the worst of it --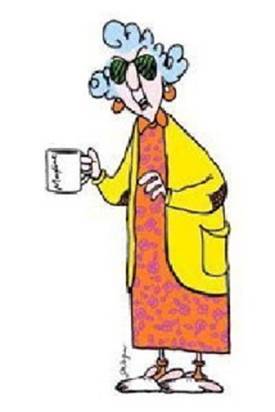 Almost every time I sneeze, cough or sputter, either my radiator leaks or my exhaust backfires!
A good laugh for people in the over 50 group!!!
Also for those who know people like us.
When I bought my Blackberry I thought about the 30-year business I ran with 1800 employees, all without a cell phone that plays music, takes videos, pictures and communicates with Facebook and Twitter. I signed up under duress for Twitter and Facebook, so my seven kids, their spouses, 13 grandkids and 2 great grand kids could communicate with me in the modern way. I figured I could handle something as simple as Twitter with only 140 characters of space.

That was before one of my grandkids hooked me up for Tweeter, Tweetree, Twhirl, Twitterfon, Tweetie and Twittererific Tweetdeck, Twitpix and something that sends every message to my cell phone and every other program within the texting world.

My phone was beeping every three minutes with the details of everything except the bowel movements of the entire next generation. I am not ready to live like this. I keep my cell phone in the garage in my golf bag.

The kids bought me a GPS for my last birthday because they say I get lost every now and then going over to the grocery store or library. I keep that in a box under my tool bench with the Blue tooth [it's red] phone I am supposed to use when I drive. I wore it once and was standing in line at Barnes and Noble talking to my wife and everyone in the nearest 50 yards was glaring at me. I had to take my hearing aid out to use it, and I got a litt le loud.

I mean the GPS looked pretty smart on my dash board, but the lady inside that gadget was the most annoying, rudest person I had run into in a long time. Every 10 minutes, she would sarcastically say, "Re-calc-u-lating." You would think that she could be nicer. It was like she could barely tolerate me. She would let go with a deep sigh and then tell me to make a U-turn at the next light. Then if I made a right turn instead. Well, it was not a good relationship.

When I get really lost now, I call my wife and tell her the name of the cross streets and while she is starting to develop the same tone as Gypsy, the GPS lady, at least she loves me.

To be perfectly frank, I am still trying to learn how to use the cordless phones in our house. We have had them for 4 years, but I still haven't figured out how I can lose three phones all at once and have run around digging under chair cushions and checking bathrooms and the dirty laundry baskets when the phone rings.

The world is just getting too complex for me. They even mess me up every time I go to the grocery store. You would think they could settle on something themselves but this sudden "Paper or Plastic?" every time I check out just knocks me for a loop. I bought some of those cloth reusable bags to avoid looking confused, but I never remember to take them in with me.

Now I toss it back to them. When they ask me, "Paper or Plastic?" I just say, "Doesn't matter to me. I am bi-sacksual." Then it's their turn to stare at me with a blank look. I was recently asked if I tweet. I answered, No, but I do toot a lot."
Contributed by Barbara Arthur Pretzsch RHS '58
????????????????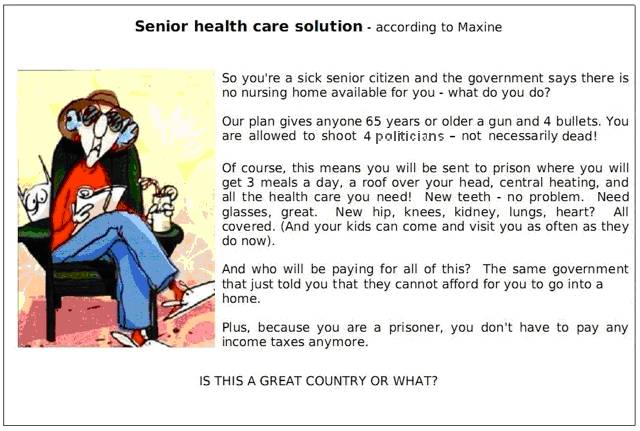 Hm-mmmmmmm That's Just Scary!!!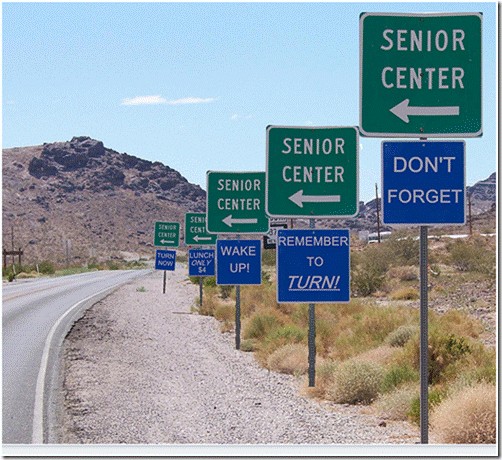 GRANDPARENTS ANSWERING MACHINE
Good morning. . . . At present we are not at home but,
please leave your message after you hear the beep.
Beeeeeppp ...

If you are one of our children, dial 1 and then select the
option from 1 to 5 in order of "arrival" so we know who it is.

If you need us to stay with the children, press 2
If you want to borrow the car, press 3
If you want us to wash your clothes and ironing, press 4
If you want the grandchildren to sleep here tonight, press 5
If you want us to pick up the kids at school, press 6
If you want us to prepare a meal for Sunday or to have
it delivered to your home, press 7
If you want to come to eat here, press 8
If you need money, dial 9

If you are going to invite us to dinner, or take us to a restaurant, start talking, we are listening !!!!!!!!!!!"

Contrib
uted by Barbara Arthur Pretzsch RHS '58
SENIOR MOMENT?!
An elderly couple had dinner at another couple's house, and after eating, the wives left the table and went into the kitchen.

The two gentlemen were talking, and one said, 'Last night we went out to a new restaurant and it was really great.. I would recommend it very highly.'

The other man said, 'What is the name of the restaurant?'
The first man thought and thought and finally said, 'What is the name of that flower you give to someone you love? You know.... The one that's red and has thorns.'

'Do you mean a rose?'
'Yes, that's the one,' replied the man. He then turned towards the kitchen and yelled, 'Rose, what's the name of that restaurant we went to last night?'
Happy Birthday??!!!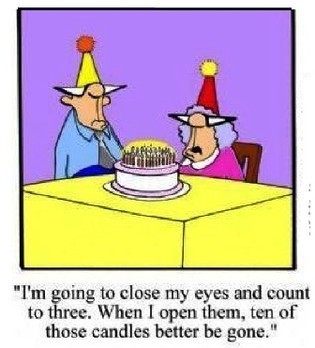 Old is When. . .
'OLD' IS WHEN ... Your sweetie says, 'Let's go upstairs and make love,' and you answer, 'Pick one; I can't do both!'

'OLD' IS WHEN ... Your friends compliment you on your new alligator shoes and you're barefoot.
'OLD' IS WHEN ...
A sexy babe catches your fancy and your pacemaker opens the garage door.
'OLD' IS WHEN ...
Going braless pulls all the wrinkles out of your face.
'OLD' IS WHEN ...
You don't care where your spouse goes, just as long as you don't have to go along.
'OLD' IS WHEN ...
You are cautioned to slow down by the doctor instead of by the police

'OLD' IS WHEN ... 'Getting a little action' means you don't need to take any fiber today.

'OLD' IS WHEN ... 'Getting lucky' means you find your car in the parking lot.
'OLD' IS WHEN ...
An 'all nighter' means not getting up to use the bathroom.